What are "photoceuticals"? Photoceuticals are validated through clinical studies and use light in a specific dose to produce safe, and reproducible outcomes. Targeted laser therapy treatments can be used to reduce, or in some cases, eliminate the need for NSAIDs. Through scientific investigation, we can now optimize the desired biological effect to provide photochemical (healing and immune response), photophysical (analgesia) or thermomechanical (regenerative) tissue responses. An ideal photoceutical device delivers optimal doses of light energy using a combination of curated wavelengths and the ideal frequency of exposure to produce targeted outcomes. These targeted treatments improve quality of life and support the continuum of care over the span of a pet's plan of care, and life.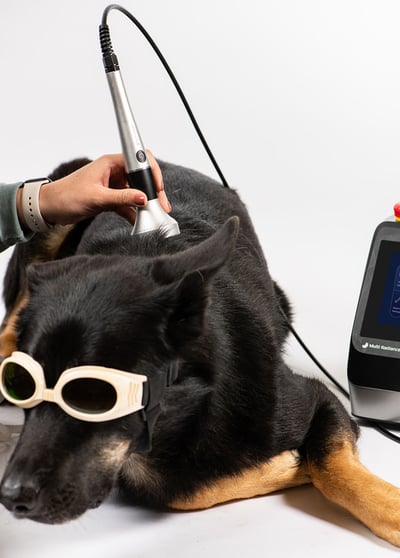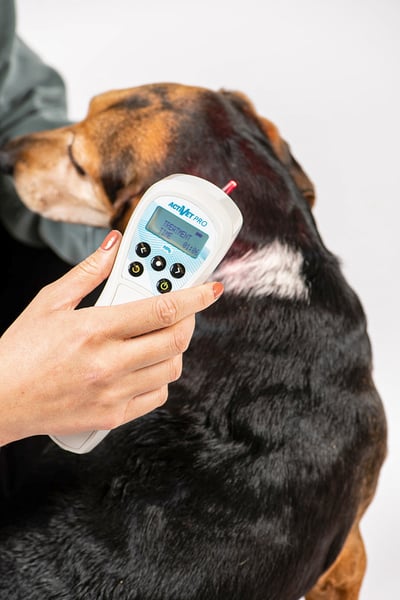 Stages of Care
Pharmaceutical Care
Photoceutical Care

Stages of Care

Stage 1

Acute Trauma/Pain

Pharmaceutical Care

Pain Medication, via IV

During surgery Rufus gets his first dose of analgesic via IV

Photoceutical Care

High-Dose Laser Therapy

Delivered post-surgically to his wound and surrounding tissue to quickly reduce pain

Stages of Care

Stage 2

Ready for Recovery

Pharmaceutical Care

Antibiotics, via injection

Rufus gets a long-acting injectable antibiotic to protect him when he's ready for at-home recovery

Photoceutical Care

Tissue Healing Optimized Dose of Laser Therapy

Delivered to the damaged tissue to stimulate regeneration of the injured tissue

Stages of Care

Pharmaceutical Care

Antibiotics, via Oral Medication, Pet-Owner Administered

Pet Owner gives at-home dose of antibiotics to continue protecting Rufus

Photoceutical Care

Long-Term Care Laser, via At-Home Device, Pet-Owner Administered

Pet owner maintains healing with dose of laser optimized for long-term care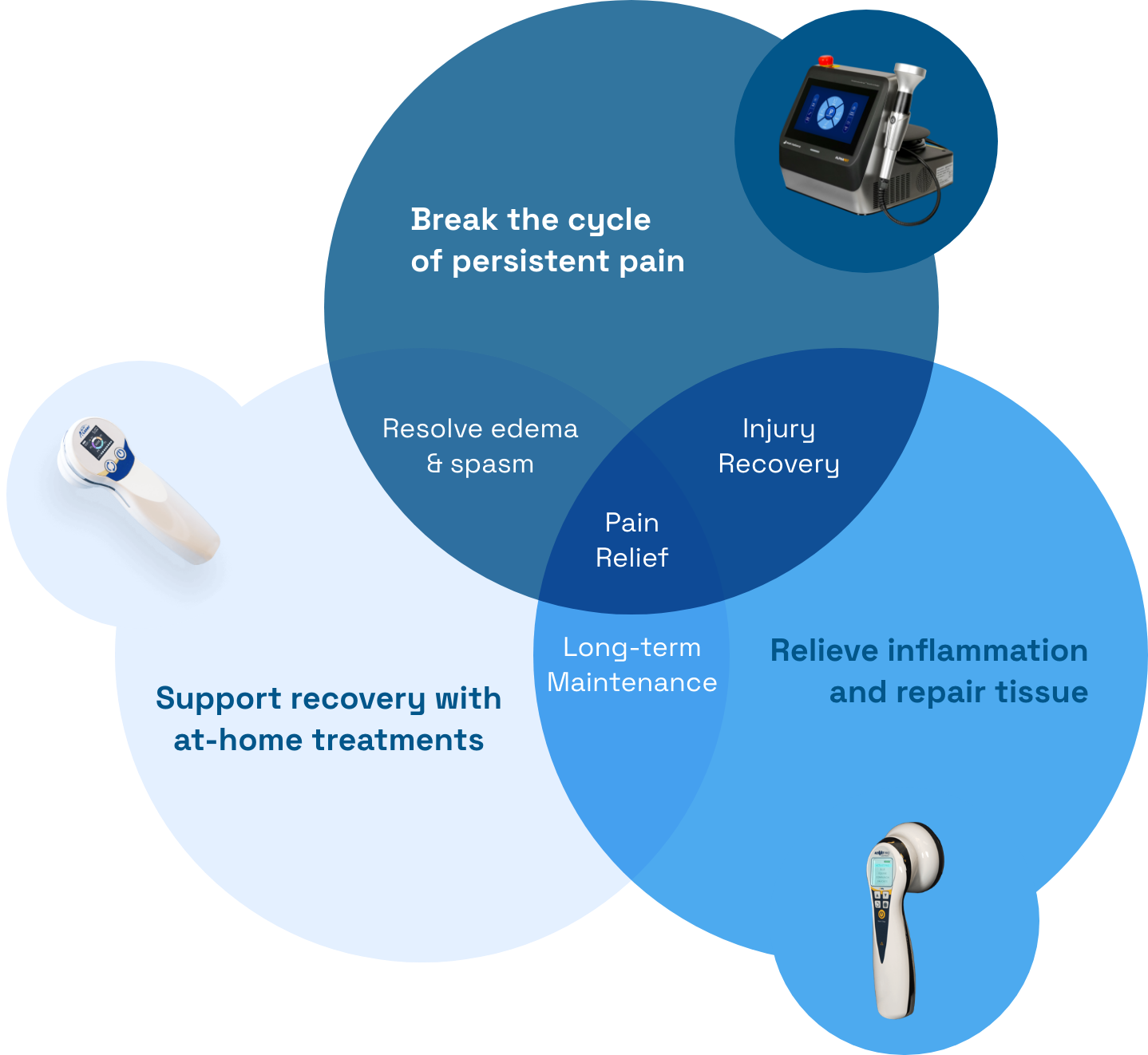 A Non-Linear Approach to Care
A Photoceutical approach to care provides the right laser therapy tool in the toolbox for every condition, and every stage of care. The foundational goal with photoceuticals is to relieve pain, but which tool you'll use will depend on your patient's needs.
From Quick Pain Relief to Tissue Healing and Long-Term Care
You have different goals for your patients at each stage of care. The Laser Therapy Continuum of Care is designed to provide you with the right non-invasive tools in your laser therapy toolbox to meet your clinical goals throughout a complete plan of care.
Relieve Pain
Treatment protocols employ higher power to block pain and prime patients for tissue healing. Protocols are designed for treating large areas and addressing the source of pain and its referral sites.
Heal Tissue
After the pain is under control, targeted treatments support tissue healing. Treatment protocols are highly targeted at the source of tissue dysfunction for the cellular repair.
Maintain Relief
After short-term resolution is achieved, chronic conditions require on-going treatment. Simple treatment programs address the target area for long-term relief.
Photoceutical Tools: Laser therapy solutions for every stage of care
Relieve Pain.

Alphavet
Quickly reduce pain to prepare tissue for healing.
Heal Tissue.

ACTIVet Series
Use light to heal tissue on a cellular level.
Maintain Relief.

MPL 2.0
Lock in results, prescribe at-home laser treatment.