Lock in Results with the My Pet Laser 2.0
Improve outcomes, client compliance, and add a new revenue stream to your practice with the My Pet Laser 2.0 take-home device. Prescribe one of the 5 built-in protocols to lock in clinical outcomes.
Schedule a Demonstration
Super Pulsed Laser
The super pulsed laser (905nm) produces high powered light in billionth-of-a-second pulses. The power of each pulse drives the photons deep into the target tissue. Multi Radiance Medical technology creates a high photon density, strongly reducing pain and improving micro-circulation.
Infrared SLDs
Pulsed broad band infrared emitting diodes (875nm) penetrate shallower tissue depths than the laser but provide a broader spectrum of coverage.
Pulsed Red LEDs
Pulsed red light (660nm) penetrates shallower depths but exerts a strong influence on acute injuries, reducing pain quickly.
Static Magnetic Field
Static magnetic field keeps ionized molecules of tissue in a dissociated state, enhancing the body's potential to absorb energy.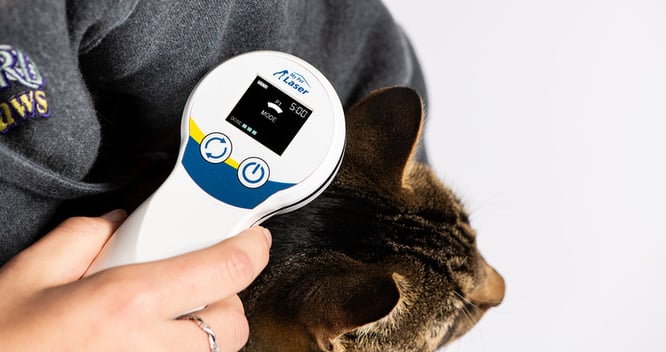 5 Built-In Protocols
Prescribe one of the 5 maintenance protocols

Battery-Operated
Cordless device with rechargeable battery for portability

Safe
Safe for at-home use by pet owners

Practice Builder
Increase client compliance and clinic revenue
My Pet Laser 2.0
Specifications:
Peak Power: 25 W

Treatment Modes: 5

FDA-Cleared for Home Use

Wavelengths: 660nm, 850nm, and 905nm

Battery Operated